Planning your wedding at Miss Caroline's is easy.  If you want to elope, choose one of our couples only options.  If you plan to invite family and friends, choose an option based on the number of guests you'll have attending.  You can plan something simple or go all out!  It's up to you. 
Please note, ceremony packages are designed and scheduled according to guest count.  The bride and groom are not included.  However, the wedding party is counted as guests. More than two guests above package limit requires an upgrade.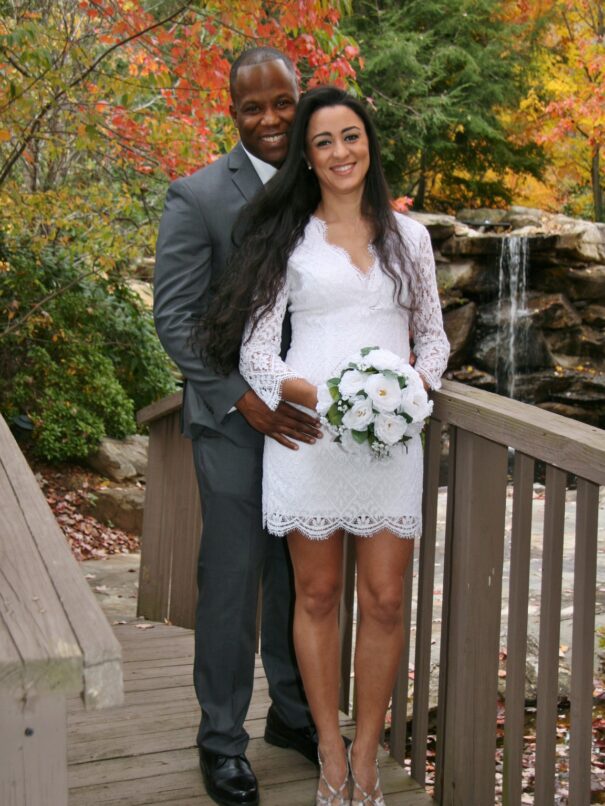 Additional Ceremony Options
Unity Candle Service with keepsake candle or Sand Ceremony to include 2 sand & vase $50 Or bring your own for $25 service/set up fee
Additional fresh bouquets starting at $100
Additional fresh boutonniere $15
Ring Bearer Pillow $15.00
Flower Girl Basket $15.00 (includes silk petals)
Guest Book $5.00 – $15.00
8" Single Tier Wedding Cake to Go $30.00
Toasting Ceremony for our Couples Only packages. Request Info.
If you feel your wedding party needs more time, reserve the chapel for an additional hour $150.00
Cabin Rentals in addition to your package for you or your guests $125.00 – $145.00 /night plus state and lodging taxes.
Two night minimum stay requirement.  Pet friendly cabins available.  Additional fee applies.
Miss Caroline's Smoky Mountain Wedding Chapel was built in 1992. It was originally a traveler's chapel dedicated to Maggie Valley tourists for prayer and worship. Couples desiring to be married found the chapel so quaint and cozy that it soon became necessary for a minister to be on call just to perform ceremonies.